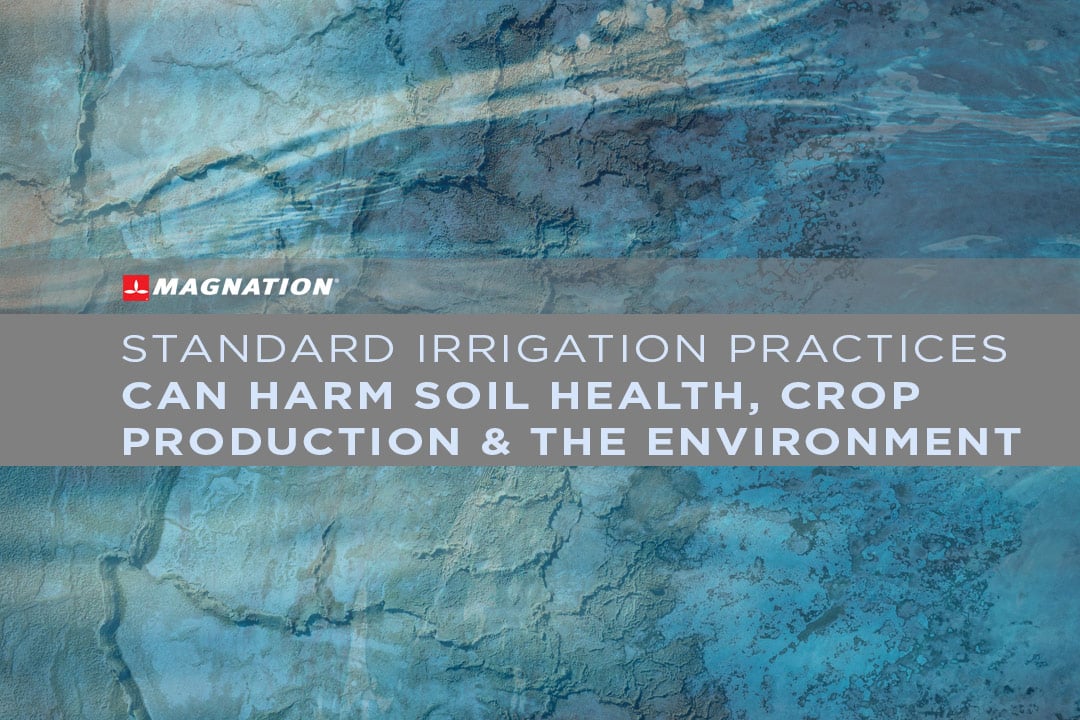 While populations on nearly a quarter of all global land areas experience cope with water shortages, agricultural production uses almost three-quarters of the global freshwater supply. The impact agriculture's reliance on freshwater supplies becomes apparent through food production. On a global scale, approximately one-fifth of irrigated croplands provide forty percent of food production.
Standard Irrigation Practices Can Harm Soil Health, Crop Production, and the Environment
Irrigation may also drain groundwater tables, rivers, lakes, and reservoirs. In addition, the cost of standard irrigation practices can exceed the productivity gained through irrigation. Costs increase when plants become stressed due to low soil water supplies and decreased amounts of moisture in the atmosphere. Both factors negatively affect root uptake and photosynthesis. As a result, crop yields—and food supplies—decrease.
Along with decreasing crop yields, standard irrigation practices also cause environmental problems that begin with soil quality. The bulk density of soil increases with an increase in irrigation. Loose, porous soils that had remained rich in organic matter become compacted. As the movement of air and water in compacted soil decreases, plants have decreased root growth. The lack of vegetative growth causes increased run-off and erosion, also negatively impacting the health of the eco-system.
Irrigation-induced salinity often widens environmental impacts. Increased soil salinity decreases the availability of soil nitrogen and essential microorganisms that allow denitrification to occur. As a result, landowners may increase the use of agri-chemicals to offset any nutrient depletion.
The lack of balance caused by increased soil salinity can cause nitrification. Nitrification oxidizes nitrogen compounds such as ammonia to nitrite and nitrate and reduces soil alkalinity, pH, dissolved oxygen, and chloramine residuals, problems with water quality—and potential health issues—occur. Without the microbial processes associated with denitrification, nitrites and nitrates in the soil cannot reduce to gaseous forms of nitrogen. Each of these changes in soil quality lead to increases in nitrous oxide emissions that harm the ozone layer and contribute to climate change.
Sustainable Irrigation is a Global Priority
Dwindling water resources underline the need for sustainable irrigation. With the supply of freshwater in mind, the management, use, and conservation of water resources is a priority. Sustainable irrigation ensures that agricultural needs do not drain aquifers, rivers, or lakes and that those needs do not damage entire ecosystems through surface run-off and soil salinization. Run-off leaches nutrients from soils and introduces chemicals into fresh water sources.
Soil health defines the capacity of soil to function as a living system. Sustainable irrigation improves overall soil health by increasing the amount of organic matter in the soil. In turn, the water holding capacity of soil increases. According to the United States Department of Agriculture, every one percent increase in organic matter allows an acre of soil to hold an additional 25,000 gallons of water. Along with increasing the water holding capacity of soil, sustainable irrigation also encourages the growth of arbuscular mycorrhizal fungi, cyanobacteria, and beneficial nematodes that allow plants to easily absorb nutrients.
Magnation Offers Sustainable Irrigation Solutions
Certified Crop Advisor Greg Baker recommends Magnation Water Technologies as the solution for managing water, improving water quality, and maintaining good soil health. The use of irrigation water treated with magnetic technologies reduces surface tension and total dissolved solids in water, improves soil moisture retention, and increases the absorption of water and minerals by roots. Studies conducted by global teams of independent researchers indicate that the application of magnetic fields to irrigation water:
Increase seed germination rates
Increase crop yields
Improved water flow and quality
Reduced water use
Baker points out that Magnation devices cut reliance on chemical supplements for improving water quality by using magnetism to fraction the salts in the water and prevent soil salinization. President of the Idaho Farm Bureau, Bryan Searle offers further proof of the value of Magnation Water Technologies for sustainable irrigation. Searle noted that installing the Turbulator resulted in a 10 to 20 percent decrease in water usage and that plant uptake of nutrients increased even with a reduction in fertilizer, as well as leaving more soil petioles for future seasons.
Installing Magnation devices such as the Turbulator reduces soil salinity. During nine years of data collection on soil affected by the installation of a Turbulator, soil salinity decreased without the use of chemicals while the soil pH level improved from 8.3 to 7.3. Balancing water pH allows water to penetrate the soil and boosts plant and root health. According to Piarra Johl of Yuba City, California, installing Magnation devices has dramatically improved prune tree vitality and growth with less use of fertilizers. Johl summarizes the improvement by saying, "the water makes the difference."
Magnation Water Technologies devices install easily and offer a sustainable irrigation solution at reasonable costs with an excellent ROI. For more information about achieving sustainable irrigation through Magnation, contact a water conditioning professional by calling (888) 820 0363 or visiting the Magnation headquarters at 660 4th Street in Oakland, California.