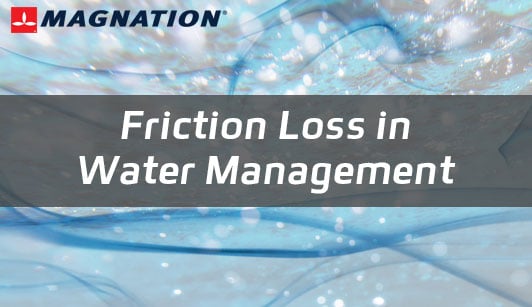 Friction is the motion energy created by the movement of one rough surface against another rough surface. Each movement creates resistance. As the resistance continues to occur, the motion energy converts to heat energy. Solid friction includes:
Sliding friction
Rolling friction
Static friction
While fluid friction has the same general properties as solid friction, key differences exist. Fluid friction occurs through the action of fluids against solid objects and within fluid-fluid motion. A fluid rubbing against another fluid or contacting a solid object resists motion.
Water, Viscosity, and Resistance
Every liquid has viscosity--or the resistance to flow. The viscosity—or thickness—of a liquid causes resistance to occur when a fluid moves over the surface of a pipe. Liquids that have higher viscosity have lower flow rates.
Water has low viscosity. Yet, several factors can increase the viscosity of water and the resistance to flow. As water becomes colder, viscosity increases. Increasing the pressure of water at higher temperatures also increases viscosity.
Friction Loss and Energy Loss in Water Management
Friction loss increases the resistance to flow rate by exerting force in the opposite direction of the flow. As fluid molecules move against each other or against the wall of a pipe, friction loss increases. The drag caused by fluid friction dissipates energy and--in turn--increases costs.
Hard water flowing through any type of piping system carries minerals that deposit on the pipe surface and allow scale to form. Each deposited layer adds friction loss and reduces flow rate.
The friction loss introduced by mineral scale also changes the velocity of flowing water and generates turbulence within pipes. While water in the center of a pipe flows at a higher velocity, water close to the rough surface of the pipe flows at a slower rate. To keep water flowing at a higher velocity and to compensate for the difference in velocities while attempting to maintain pressure, systems use more energy.
Relationship Between Energy Costs, Mineral Scale, and Biofilm
Maintaining the proper operation of the heating, cooling, and refrigeration systems depends on maintaining the proper flow rate. For industries and facilities, the mineral scale caused by hard water adds roughness to the inner surfaces of the pumps, reciprocating compressors, and pipes used for boilers and cooling systems, reduces pipe diameters, and affects the flow velocity. As the scale continues to build and water collects around pipe joints and bends, corrosion can occur and cause components to break down.
In HVACR systems, higher temperatures--especially at the boiling point--combine with surface roughness to increase the buildup of minerals and biofilms. As the inner surfaces of pipes become rougher and flow velocity decreases, bacteria latch onto the surface and biofilms develop.
Magnation Water Technologies Provide a Solution for Mineral Scale
Magnation Water Technologies change hard water into soft, rain-like water through the application of ionization, magnetism, rifling, vortexing, kinetics, and static mixing. Magnation's product line improves pump performance, reduces energy costs, and produce improved flow and pressure. A recent case study conducted by Brian Malone, chief engineer at the Gap headquarters, found that the installation of Magnation's Rainbolt and Aquabolt devices on boilers, cooling towers, the main line, ice makers, and drinking fountains reduced energy consumption by 42%.
Rainbolt Aquabolt
For more information about Magnation's products, call (888) 820-0363 to speak with a water consultant.