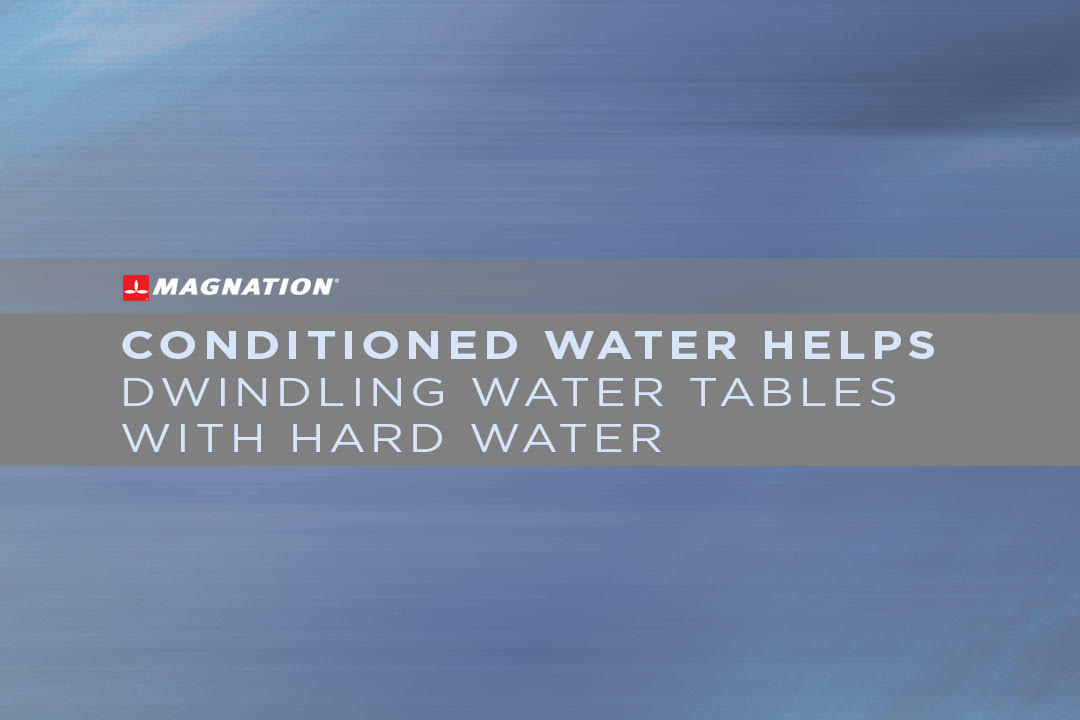 Magnation Water Technologies Condition Water Compromised by Low Water Tables
Two major groundwater systems support agriculture and population needs for the Western half of the United States. While the California Central Valley aquifer covers 20,000 miles under the Sacramento and San Joaquin valleys, the Ogallala Aquifer occupies an area stretching from South Dakota to Texas. To place the importance of the subterranean bodies of water in perspective, 20 percent of the world's wheat, soybean, sorghum, and corn crops, 40 percent of beef production of the United States, and 40 percent of tomatoes, corn and other vegetables, almonds, walnuts, and pistachios, and grapes, oranges, tangerines and other citrus and tree fruit produced for the United States depend on the aquifers.
Unfortunately, demand has depleted both aquifers to the crisis point. In the Central Valley of California, the population has doubled to more than 6 million people. The more than 100,000 wells that dot the valley have contributed to over-pumping with one percent of the nation's farmland consuming 17 percent of the nation's irrigation. During the past 60 years, groundwater in the aquifer has declined by 60 million acre-feet. From 2005 through 2015, the aquifer dropped by 20 million acre-feet. Historic drought has lowered the amount of water flowing into the aquifer from the Colorado River system and from run-off from the Sierra Nevada mountains and the Coastal Ranges.
Source: United States Geological Survey
The same situation exists for the Ogallala Aquifer. Current irrigation exceeds the recharge rate of the aquifer. Although many farmers have turned to dryland production, the demand for biofuels has prompted an increase in corn production. Growing population centers have also tapped into the aquifer. As a result, groundwater levels have dropped more than 150 feet and 30% of the aquifer no longer supports wells. Research indicates that the aquifer will become 70% depleted before 2070. In brief, the river systems that feed the Ogallala Aquifer cannot match demand.
Groundwater Depletion Has Lasting Consequences
The long-term consequences of aquifer depletion are obvious. However, the short-term consequences hold an equal amount of danger. News headlines already show lower lake levels. In Western Kansas ,as with other states, perennial streams have dried. Much of the Smoky Hill River and the creeks that fed the river have become pasture. Vegetation, invertebrates, fish, and amphibians have died.
In some areas, land subsidence–or the slow motion deflation of land and sinkhole formation occurs. In some areas above depleted aquifers, soil has begun to dip by as much as two feet. As communities, companies, and irrigators pump water out of an aquifer, the geology above the aquifer slowly changes and damages infrastructure.
As water levels decline, wells will stop working and farmland will go out of production. Farmers may not have water or may not receive sufficient water allocations for planting a full acreage. Because of the risk, banks will not loan to farmers who do not have sustainable water plans. In addition, communities will lack access to clean water. During 2021, thousands of California citizens ran out of water.
Saltwater Intrusion Impacts Communities, Industries, and Agriculture
The depletion of aquifers also causes changes in ground water flow. Those changes combine with reduced hydrostatic pressure to draw saline groundwater into subterranean areas once occupied by fresh water. The addition of salt water to an aquifer changes the chemical composition of the environment. An increase in ionic strength increases the concentrations of ammonium, phosphate, barium, and radium in the water. Salt water also features increased oxidation that releases sulfate iron.
Each change in the chemical composition of water introduces nutrients, carbon, metals, and sulfides into the water. The excess nutrients increase the amounts of harmful algae and plant growth in the water. When those plants die, decomposition releases carbon dioxide into the water, lowers the pH of the water, and causes oxygen depletion.
Because as little as 1% sea water makes groundwater non-potable, salt water intrusion increases costs for facilities that treat water for human consumption. As a result, water utilities may need to increase treatment, find other fresh water sources, or revamp water intakes. For industries, salt water intrusion increases the corrosion of metals and concrete. Industrial HVAC systems cannot accept water with a high chloride content. Production processes require high quality water.
In the same way, the wells used for agricultural purposes become unusable for irrigation. In addition, increased soil salinity harms production. While the increase in ionic strength and sulfide toxicity draws water out of plants and causes plant stress, an increased amount of nutrients release into the soil and prompts the growth of invasive plant species. The change in pH and the formation of iron-sulfur minerals leads to the release of phosphorus in acid soils and changes the carbon dynamics of the soil. Clay dispersion hinders drainage and affects root growth.
Magnation Emphasizes Sustainable Irrigation
Sustainable irrigation ensures that agricultural needs do not drain aquifers, rivers, or lakes and that those needs do not damage entire ecosystems through surface run-off and soil salinization. In addition, sustainable irrigation practices improve overall soil health by increasing the amount of organic matter in the soil. In turn, the water holding capacity of soil increases and crops require less irrigation.
Magnation Water Technologies offers a full-range of products that work with all types of irrigation equipment while supporting sustainable irrigation. Porterville, California landowner Mark Merritt confirmed that the installation of the Magnation Turbulator in his irrigation system resulted in 30% less water use. All of Magnation's products produce similar results. The design of Magnation's Rainbolt combines magnetism, centrifugal force, and vortexing to break apart mineral deposits and yield better water flow. Studies have shown that the installation of Rainbolt units in an irrigation system reduced the need for irrigation by 20 percent.
Magnation Water Technologies Turbulator (bottom) and Rainbolt (top)
Magnation's easily installed products improve pump performance by reducing friction and use less energy while removing salt, iron bacteria, algae and biofilm, calcium carbonate, and other contaminants from water. As an example of the water and soil improvements given through the installation of Magnation products, Lee Fintel found that irrigating with Magnation-treated water reduced soil salinity while the soil pH level improved from 8.3 to 7.2.
Magnation Water Technologies Reduce Salt in Water
Products offered by Magnation Water Technologies provide cost-effective and efficient methods for water suffering from saltwater intrusion. Magnation products such as the Rainbolt, Wellbolt, and Aquabolt feature a combination of turbulence and magnetics that separate total dissolved solids (TDS) from water and reduce the presence of organic and inorganic salts. The products solve high TDS problems without the use of chemicals, acid washes, or increased energy use. To learn more about the benefits provided by Magnation's full product line, contact a Magnation water conditioning expert.