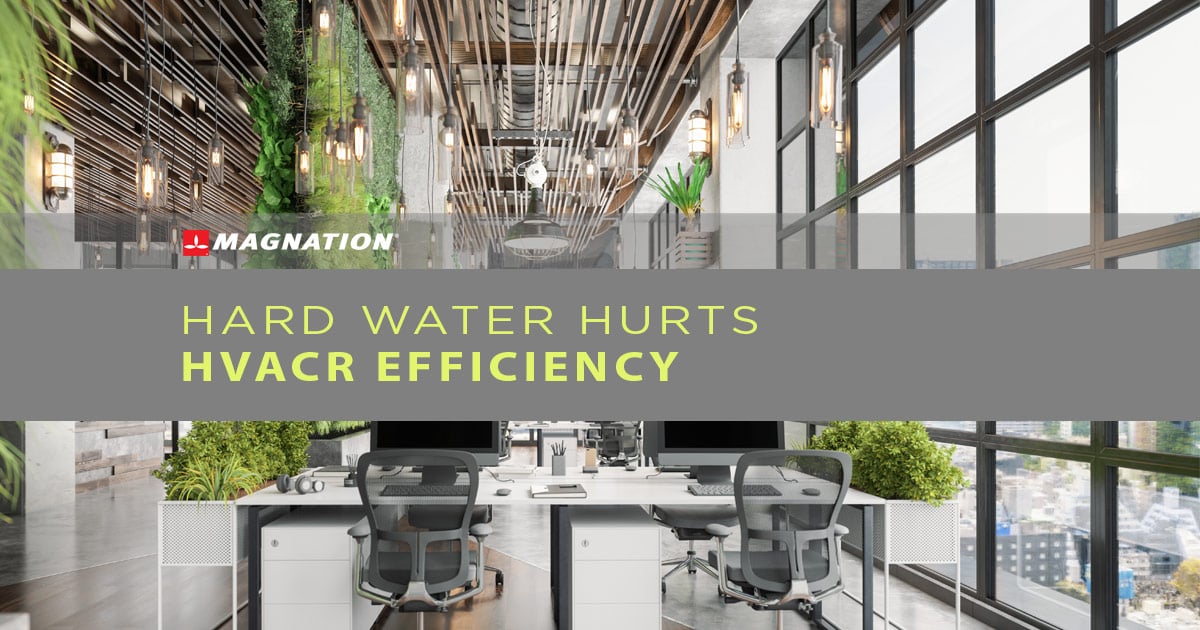 Rising energy costs have caused many of us to rethink our budgets. Let's consider the impact for a moment. For many facilities, HVACR operating costs consume slightly more than half of all electricity used. To offset those costs, facility managers and HVACR engineers seek the best methods for achieving energy efficiency. Manufacturers have offered retrofits and upgrades that include NEMA Premium® efficiency motors, variable-frequency drive technologies, intelligent sensors, and advanced controls.
Hard Water Ruins Energy Efficiency
However, hard water eliminates the advantages offered by those upgrades. The mineral deposits caused by hard water can accumulate on components and inside pipe and pump surfaces. Each layer of mineral scale restricts water flow, affects the heat transfer performance of a system, and eventually leads to component or system-wide failures.
The quality of water varies according to hardness and the presence of dissolved minerals, particulates, germs, and bacteria. Referring to the table, the amount of dissolved calcium and magnesium in water determines its hardness.

The impact of hard water hits HVACR systems in different ways. Very thin layers of mineral scale on boiler surfaces can cause fuel loss and increased operating costs. Scale residing in fill material impedes the amount of air available to cool bulk water in cooling towers. Hard water scale degrades pump impellers and forms on surfaces used for heat transfer or clog spray nozzles.
Those losses and costs increase with each additional layer of mineral scale. In addition to the energy costs associated with fuel loss, each layer increases energy costs as equipment works harder to maintain pressure and flow. Maintenance costs increase because of the need to keep components free of mineral scale and the need to monitor corrosion caused by the deposits of scale.
Every increase in hardness results in a faster buildup of scale. In HVACR systems, higher water temperatures also allows mineral scale to accumulate on pipe and tubing surfaces, pump internal walls, and components.
Magnation Water Technologies Solve Mineral Scale Problems
When water passes through an electromagnetic field, the physical and chemical properties of the water change because of the exchange of calcium and magnesium ions for loosely held sodium ions. The exchange of ions lessens the hardness and surface tension of water and prevents scale from forming on a surface. Best results occur through a combination of water chemistry, flow rate, and magnetic power.
Magnation Water Technologies offers environment-friendly passive inline water solutions that reduce energy consumption and create energy savings through physical water conditioning. Changing the molecular characteristics causes scale-causing minerals to drop out and adhere to other surfaces. Industrial equipment performs better, requires less maintenance, and has longer service lifespans through use of high-quality, rain-like water.
Magnation's award-winning Turbulator and Bolt Series technologies use turbulence and magnetism to prevent scale in HVACR pipes, tubes, pumps, and equipment. Once large scale-producing molecules dissolve into microscopic particles, the inactive, suspended particles flow freely. Turbulence pushes the minerals through the system. As a result, facility managers can gain as much as 40% in energy savings.
For more information about Magnation products, call (888) 820-0363 to speak with a water consultant.